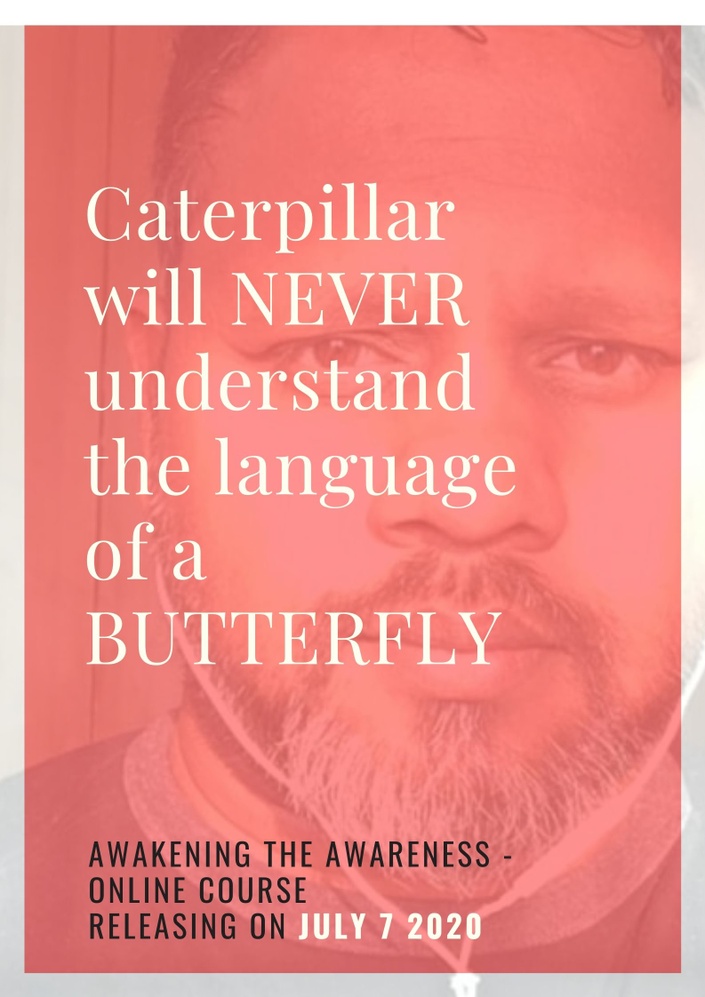 Awakening the Awareness
Have you ever wondered what it would be like to function at the peak of your potential?
Stop wondering and read below!
Welcome

If you don't want to be at the mercy of people and circumstances.

If you want Freedom from Past, Freedom from Anger, Freedom from Guilt, Freedom from Fear, Freedom from Illness, Freedom from Money Problems

If you want to Escape from the rat race

If you are tired of reading one book after another, to find solutions for your life challenges
If you've felt that people know a lot about Karma in theory, but very little practically about altering or dissolving their Karma
If you've known that breaking free from Karma will help you heal faster, overcome your life's challenges, live a peaceful and happy life - but you've been disappointed by your ability to break free from your karma

If you want to develop your Intuition and balance your Chakras
Your Search Ends today
MY PURPOSE IS TO HELP YOU ESCAPE THIS VICIOUS CIRCLE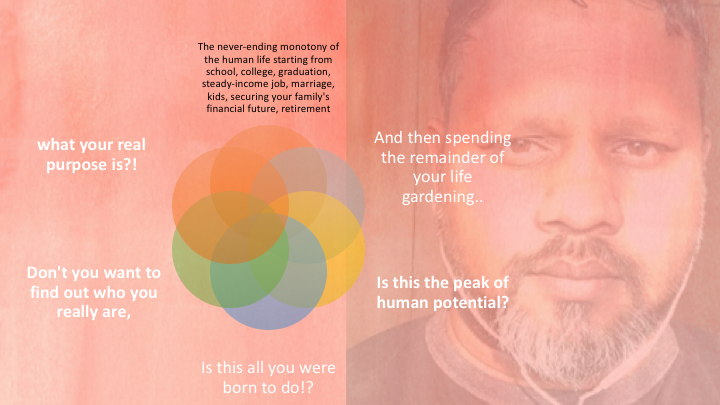 I wish there was a course like this then when I was struggling, questioning and trying to grasp the meaning and essence of life.... so I have designed this course to awaken YOU to your PEAK potential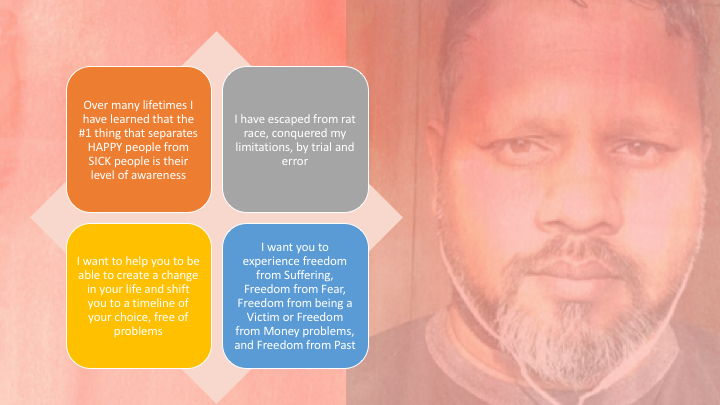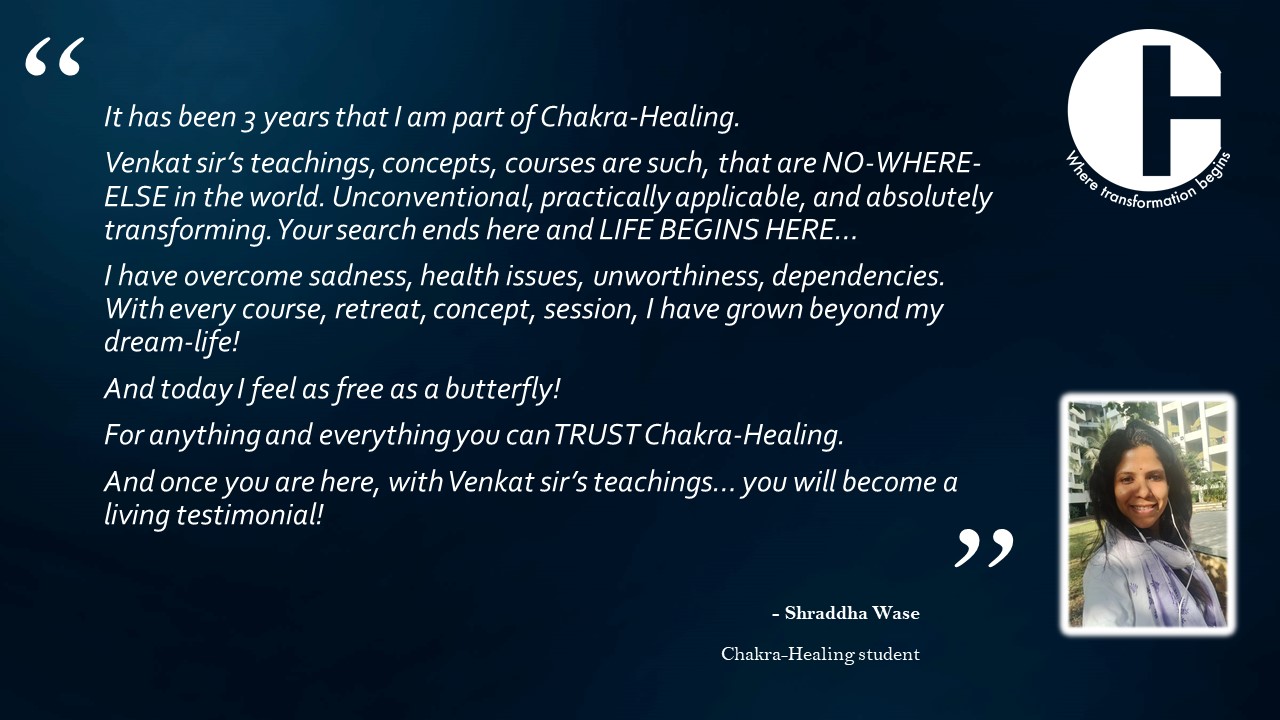 Why this Course will work for You?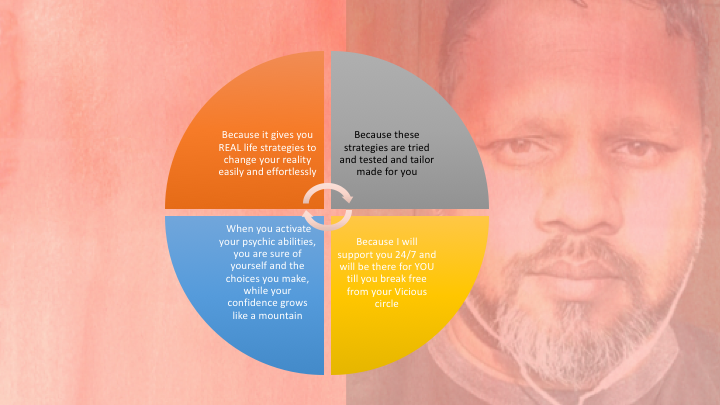 You may be wondering right now.......

I don't know what is Karma. I don't believe in Karma. Right now at this point in my life I am stressed out, because of a few things and I want a way out
I don't know how to dissolve my karma

I don't know how to handle my negative thoughts and negative emotions

I don't know how to handle my loneliness
I don't know how to get over my past hurts, traumas, unpleasant memories
I don't know how to forgive someone because of whom I experienced mental, emotional and financial difficulties
I don't know how to remain in love with my husband/wife
I don't know how I can be the best parent to my kids
I don't know how to move forward in life. I seem to be stuck in a rut.
I don't know how to come out of my depression.
I don't know how to find my true love, my life partner.
I don't know how to be happy.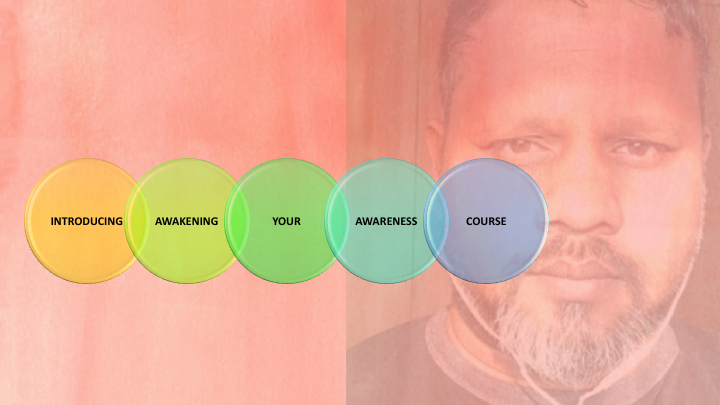 The "Awaken the Awareness - Signature course from Chakra-healing" is all about......
A simple and amazingly straightforward way to figure out which trapped emotions are holding you back and release them once for all. By releasing your trapped emotions, you will improve your emotional, psychological, spiritual and physical health and well-being.

You will learn how to handle your negative thoughts, negative memories and negative emotions
REMEMBER YOUR NEGATIVE MEMORIES BLOCK YOUR LIFE FORCE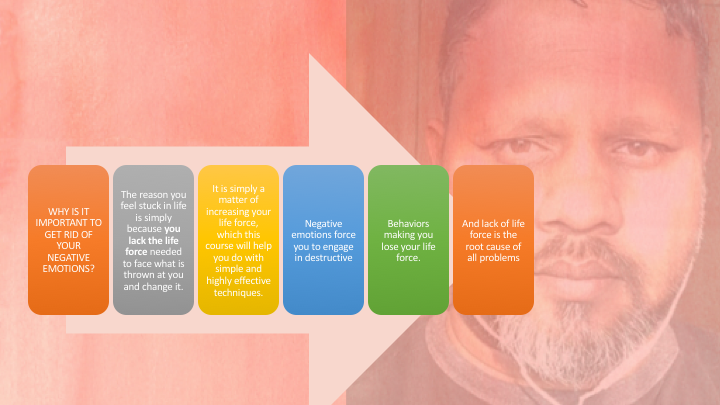 It is like, you are on the ground floor right now and cannot see beyond what is outside your main door. Now imagine the perspective you will have were you to reach the 10th floor!

The car parked right outside your door may appear to block your passage completely from the ground floor, but from the 10th floor you will see that if you simply take a small diversion you can pass the car and reach the wide freeway waiting for you!!!
And that is exactly where this course will take you!

I cannot get results for you, I can only show you the path, you must walk on the path. But I will be there till the end with you. I will be there till you cross the ocean of your problems.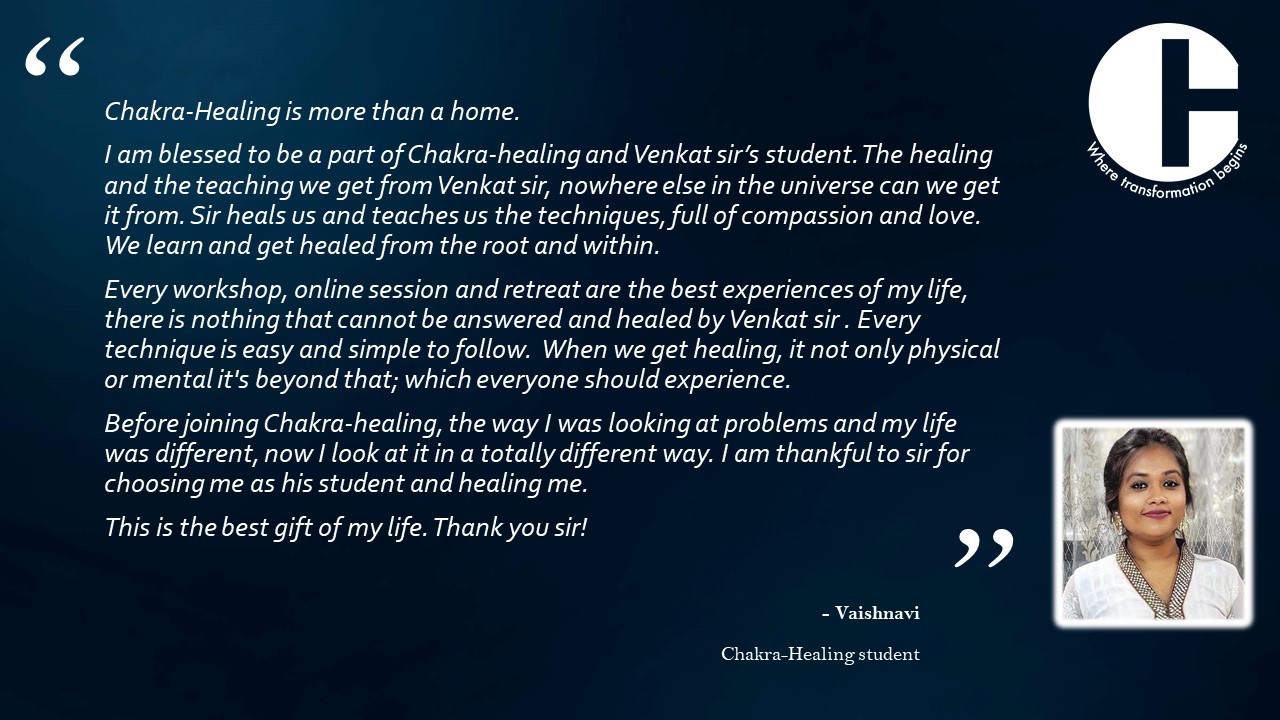 "Awaken the Awareness - Signature course from Chakra-healing"
You will learn how to get over your past hurts, traumas, unpleasant memories

You will learn how to dissolve your karma, and how to forgive someone because of whom you experienced mental, emotional, financial difficulties

You will learn how you can be the best parent to your kids and how to find your true love.

You will learn how to handle your negative thoughts and negative emotions

You will learn how to connect with others on a deeper level without giving your power away

If you feel you are stuck in a rut, then You will learn how to move forward in life
ONCE YOU JOIN THE COURSE...
Here's What you learn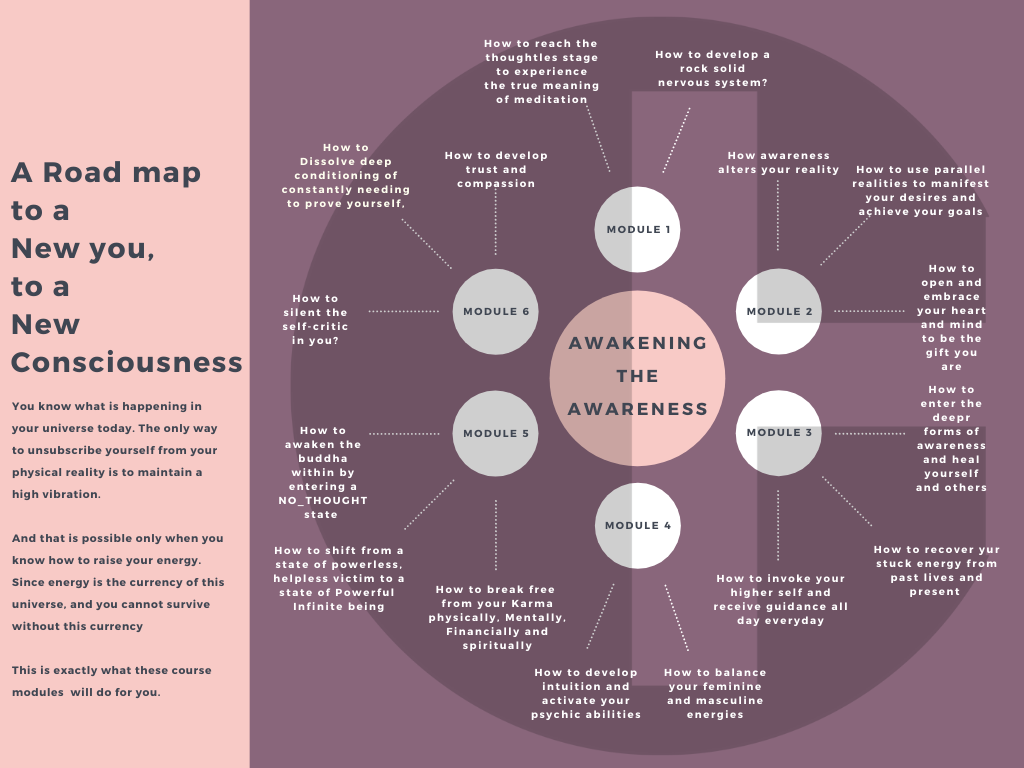 Still thinking whether to buy this course ?
If i were to sit across the table and if you were to ask me..
Ok Venkat, When there are so many cheap courses available why should I join your course?
And I would respond to you...
Ask yourself this question:
Are you looking for real strategies that get you results or just how to information copied from books? Can you afford waste of time against low cost and cheap courses?
And I will add....
Stay away from Self-claimed gurus who will give you just one piece of puzzle. This course has everything you need to dissolve and break-free, from your KARMA
I am here to show you how to alter your reality.
I am here to show you how powerful you are.
I am here to show you how to claim your freedom back.
And Finally.....
I want to say this to you.
You have two choices. Your first choice is to do nothing. Meaning everything will remain the same, including your LIFE
Your second option is to give awakening your awareness course a try. Compared to the value you will add to your life it is a very small investment. Just check it out and see, what it can do for you. If you don't like it for any reason, I will give you every penny back of your investment. There is no risk for you and everything to GAIN
PLEASE DO NOT ENROL TO THE COURSE WITHOUT CHECKING WITH ME
EMAIL : [email protected]
Whatsapp: 9177397362
Your Instructor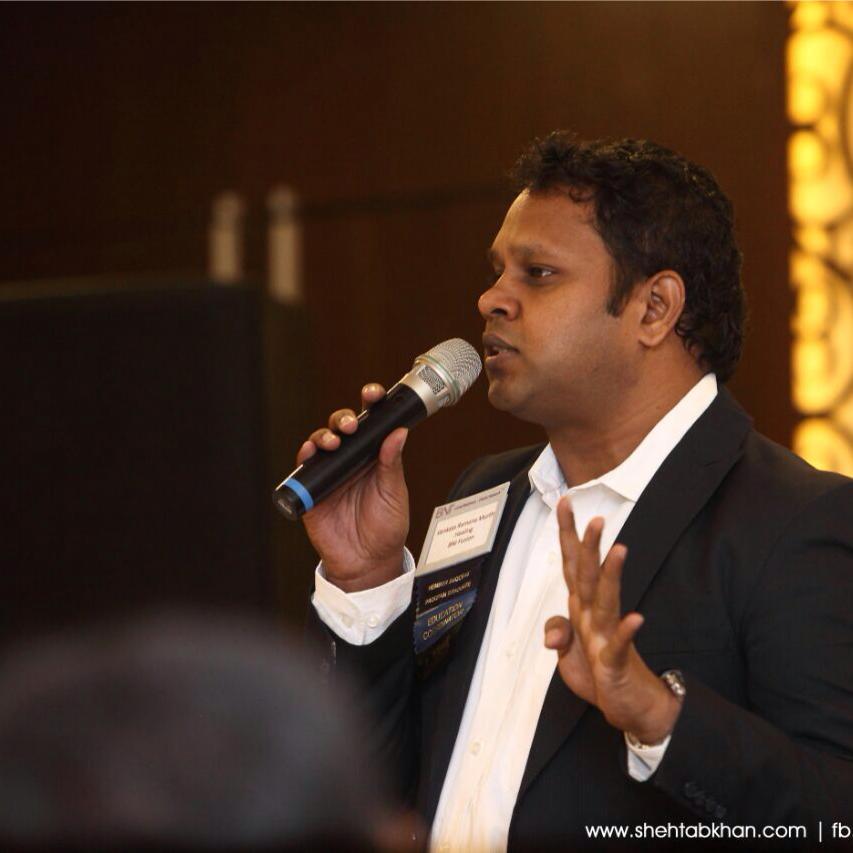 Hi, I am Venkat, an MBA graduate, founder of Chakra-Healing, Spiritual scientist, Karma healing expert, Dissolver of your EGO, a freelance artist and a human-being :). I synthesize new techniques with ancient secrets to create miracles on a daily basis such as weight loss, curing diseases, shrinking tumors, reversing diabetes, ending decades-long body pains and so on.
I have spent the last 15 years exploring energy, the mind and various forms of meditation. I have learned and practiced many forms of meditation, varying from watching the breath to physical movement to laughter.
What can I do for you?
Over the years, I worked with many masters (both physical and astral) from many different traditions and applied what I learned from them in to the creation of Chakra-Healing.
Chakra healing moves energy blockages and false identities with stillness and awareness. Through the use of various techniques, I work with each person to "Let Go" of their trapped emotions including stress, anxiety, depression, addictions and obsessions.
As acquired/created beliefs, traumas and energetic "pollution" release, the mind naturally quiets and mental clarity increases. Healing happens only when YOU take 100% responsibility for your behavior, attitudes and beliefs and are willing to change them.
When not working with private clients, I am involved in creating and developing problem-solving products, making music, running marathons and playing cricket and badminton.


Frequently Asked Questions
When does the course start and finish?
The course starts now and never ends! It is a completely self-paced online course - you decide when you start and when you finish.
How long do I have access to the course?
How does lifetime access sound? After enrolling, you have unlimited access to this course for as long as you like - across any and all devices you own.
What if I am unhappy with the course?
We would never want you to be unhappy! If you are unsatisfied with your purchase, contact us in the first 30 days and we will give you a full refund.
What about doubts and queries?
I provide Email and Whats app support for doubts and queries till you no longer have any doubts and queries. Please note that I provide solutions for your doubts but this does not include my consultancy services
How will I get training ?
Once you make the payment online or offline, you will get download link or login information and you can learn from step by step video tutorials at your own time, speed and convenience
This course is closed for enrollment.